Now featuring U.S. history lectures, including presidential and Cold War history.
Unscripted & flexible, ensuring your presentation is catered to what you and your audience find the most interesting.
Whether your interest in the Titanic is serious or simply curious, Living Titanic Lectures is guaranteed to provide you with an exciting and interesting experience that will leave you with a better understanding of the Titanic, her passengers and crew, and the disaster's role in history!
Welcome to my website, please read below for more information...

Watch me Discuss Titanic Myths on Fox News
HERE!
See me talk about the Titanic's Centennial
Commemoration for KSL
HERE
!
View my international interview as Canada's lead-in story
with Brad Giffen on CTV HERE!

I am a Titanic historian based in Utah who has been studying the tragedy since 1990. Since that time, I have flown across the country and interviewed survivors, fellow historians, published articles, and amassed a unique collection of artifacts and memorabilia including a hand made model that measures nearly 6 feet and is constructed using 50,000 matchsticks. My experience on the public speaking circuit has been extensive, having given presentations to more than 300 groups and accruing more than 2000 public speaking hours. Thank you for visiting my site. Please leave any comments or feedback using the form under the "Contact Me" link, and feel free to ask any Titanic related questions you may have!
Like "Living Titanic" on
FACEBOOK
!
Read about me in the following articles
:
Interview with msnbc.com international
- Concerning delays on the memorial cruise & delays the real Titanic experienced
Utah Man Follows Passion for Titanic History
- from the Deseret News, reprinted from Daily Herald article
Titanic Titan: Pleasant Grove man's passion becomes expertise
- from The Daily Herald
Model of Titanic helps keep Kaysville teen's hobby afloat - in the Deseret News from 1997 when "Titanic" first opened
---
Presentations for any group, in any setting...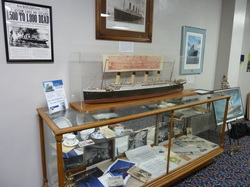 Every presentation is different, catered to any audience in any setting. From homes to classrooms, my presentations have been given to individual families in the comfort of their home as well as to entire schools in assembly settings (though I prefer presenting to individual classes to maintain a smaller, intimate atmosphere more conducive to learning). Other environments I have presented in include: firesides, religious groups, rotary and literary clubs, medical associations, at risk youth facilities, and even correctional facilities. Additionally, the length of my presentations is also flexible. On average, each lecture runs about 45 to 60 minutes with questions, although I have been asked to fill 3 hours on occasion which I am happy and able to do. If you have any interest, don't worry about being turned down--I won't say no. We can work something out to accommodate you!

---
Fees or Charges?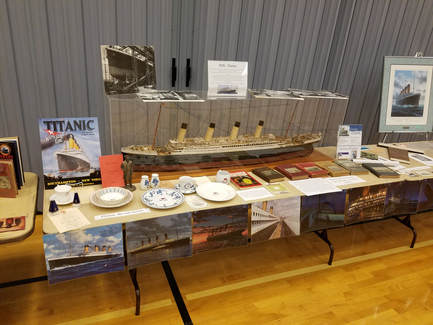 Each audience is unique, and as such my speaking fee also varies based on the audience and location of each presentation. Although my primary drive is simply a passion for spreading an excitement to learn about the Titanic, I must also account for transportation, marketing materials, insurance for my model, and other factors. Also, all money I collect goes back into improving my presentations in some form. However, I do not want you to leave your interest unsatisfied because you are worried your wallet will not allow it. Contact me and we can work out an agreement. Fees generally reflect the size and nature of my audience. As such, presentations for families in their own home are much lower than would be an academic lecture at an institution of higher learning. Fees are also lower for presentations where I am not requested to bring the model with me. Please contact me with questions and requests.
---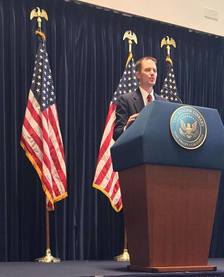 U.S. History Lectures
Over the past 15 years, I have also extensively researched presidential history for my upcoming book, "The President's Pages." This has involved a deep and thorough analysis of every U.S. president. During my journey, I have discovered many exciting and inspiring stories about often overlooked or forgotten presidents. The president I have studied most extensively is Ronald Reagan, and last year I was recognized by the Ronald Reagan Presidential Library as a distinguished Reagan historian and invited to speak at the library on September 18, 2017. Over the past several years, I have lectured on Ronald Reagan's crusade against communism, his faith and optimism, and other U.S. presidents such as Abraham Lincoln and Ulysses S. Grant.
---